"We work with the people who work the land."
Soil and Water Conservation Districts across the Commonwealth of Virginia assist landowners with the development and implementation of conservation practices. These conservation practices are installed through cost-share and tax credit programs that focus on water quality improvement and environmental stewardship. Not only do these practices improve our local environment, the installation and proper management of conservation practices also help to improve farm operational profitability.
Virginia Agricultural Cost-Share & Agricultural BMP Tax Credit Programs
The Virginia Agricultural Cost-Share Program (VACS) supports various practices in conservation planning to treat animal waste, cropland, pastureland, and forested land. Though the specific amount varies, the cost-share program's practices can often be funded by a combination of state and federal funds, reducing the landowner's expense to 30% of the total cost or more. Eligibility for this program is based on the need for and benefit of implementing conservation practices. In Russell County, our main points of concern involve soil erosion, excess nutrients (i.e. manure) in localized portions of live waterways, and poor farm management.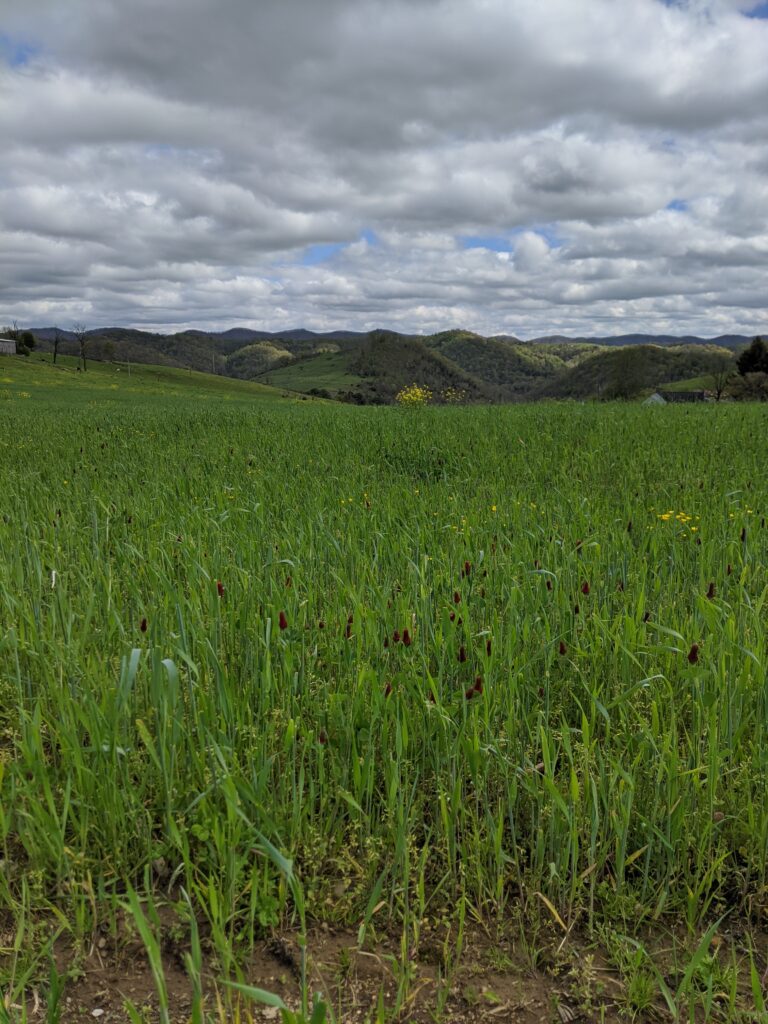 The goal of our Agricultural Best Management Practice (BMP) Tax Credit Program is to encourage voluntary installation of BMPs that address Virginia's nonpoint source pollution water quality objectives. Our program offers a 25% tax credit (not to exceed $17,500 or the total state income tax obligation) against Virginia income tax on eligible costs associated with out-of-pocket expenses incurred while installing BMPs. Certain farm machinery is also eligible for a Virginia State Tax Credit.
To learn more about VACS or the Agricultural BMP Tax Credit Programs, visit the Virginia Department of Conservation and Recreation's website or give us a call.
Educational Outreach
Every year, Clinch Valley SWCD participates in multiple classroom education outreach programs in Russell County. In these programs, the District teaches lesson plans ranging from the "Life Cycle of a Frog" and "Bird Migration" to "Advanced Map Reading" and "Understanding Ecosystems" – targeting age ranges from kindergarten to seniors in high school. In addition to our lesson plans, we also host (or participate in) a wide range of adult education programs as well – many of which revolve around the agriculture community.
If you are interested in seeing what sorts of educational services we provide visit our Educational Resources page.
No-Till Drill Rental Program
Here at Clinch Valley SWCD we encourage producers to perform sustainable farming practices that benefit land, livestock, crops, and people. In order to facilitate this, we provide a no-till drill rental program that is available to anyone interested.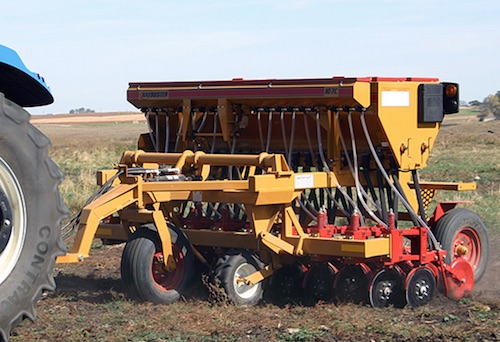 No-till farming is an excellent way to increase the health and productivity of soils by increasing soil organics and water infiltration, decreasing cropland compaction, and greatly reducing or eliminating soil erosion. In addition, no-till farming is one of the most economical methods of planting pastureland and hayland, saving you both time and money.
Our drills are perfect for planting all seed varieties. We own three drills- one 7 ft  and two 10 ft planting widths – eliminating the need to plow and disk before planting. Cost is $12/acre and includes free set-up and calibration assistance. A minimum of 55 hp is required to pull the drill by tractor, and a truck with a sturdy hitch is required for transport.
If you have any questions about no-till farming or our Haybuster 77C "Lil Pappy" or 107C "Big Poppa" and "Big Deborah" no-till drill rental program, please contact Brandon Blevins.
Lime Program
APPLICATION:
Lime Spreader Rental Program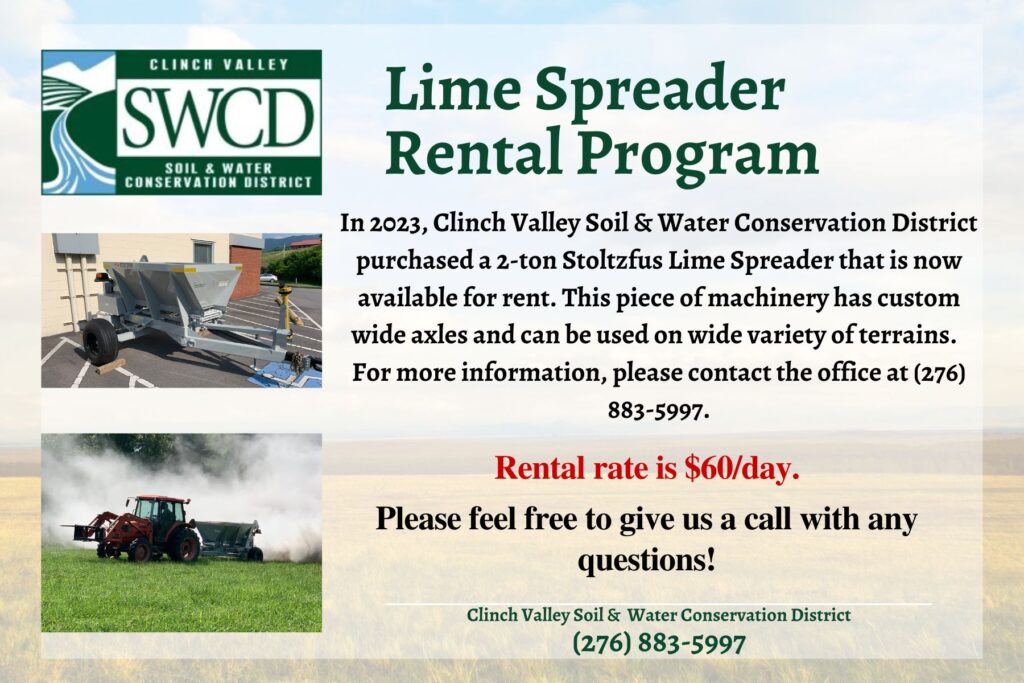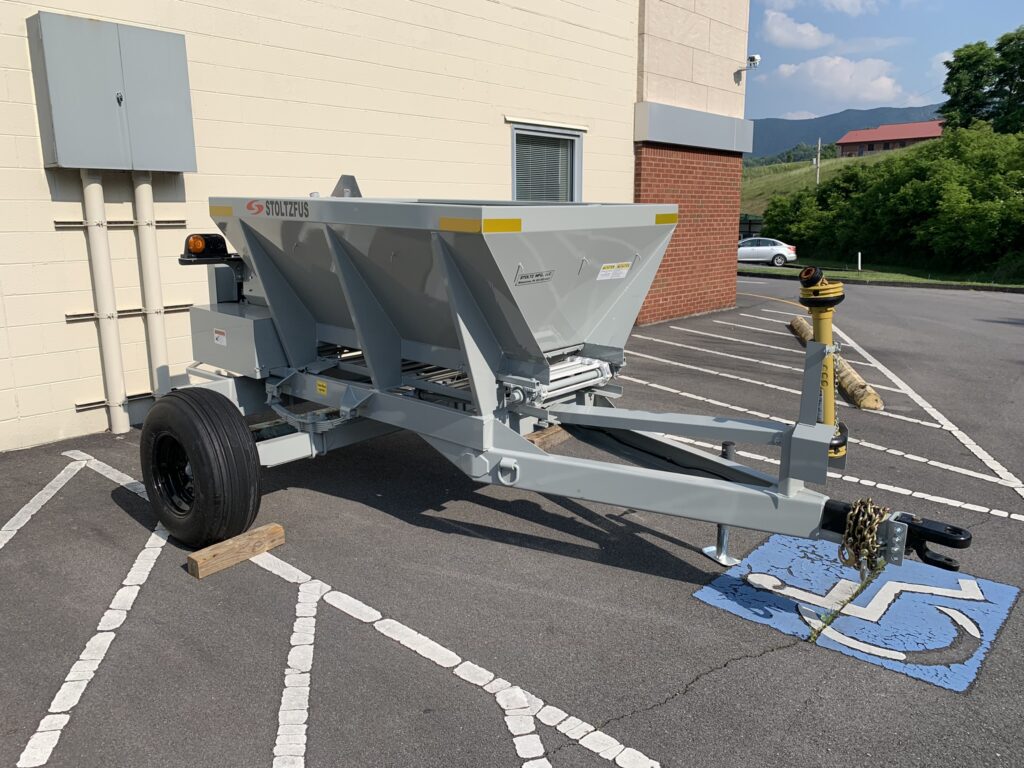 Virginia Conservation Assistance Program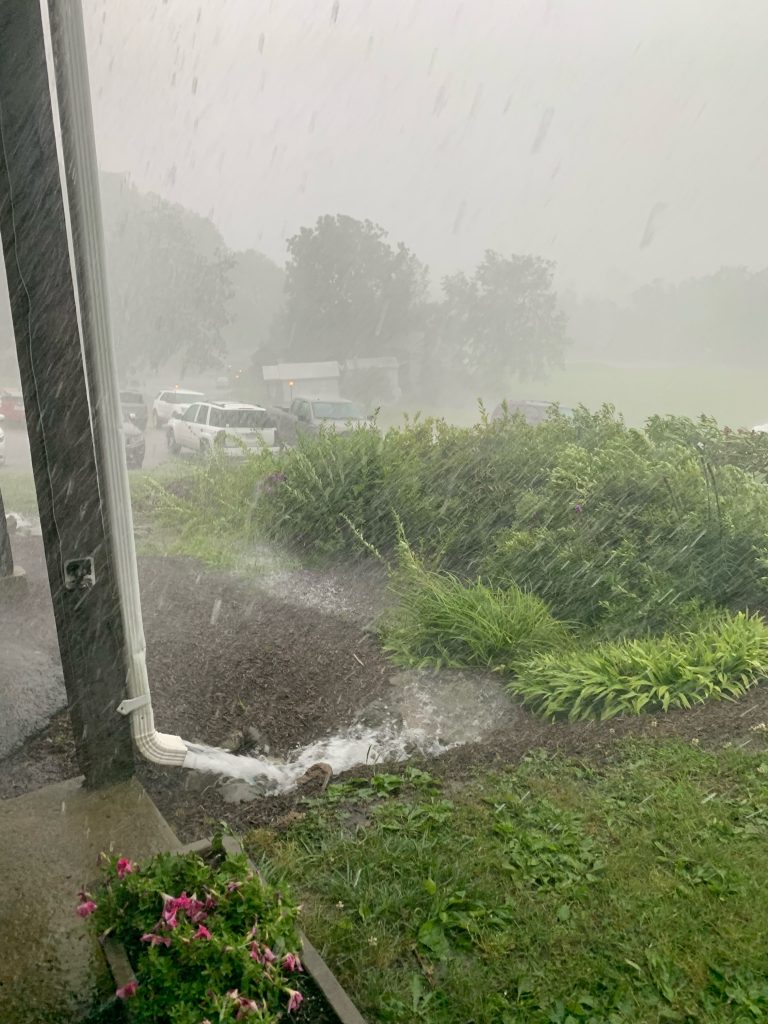 Beginning in 2019, Virginia counties not located in the Chesapeake Bay watershed became eligible for cost share assistance from the "VCAP" program. The program is an urban cost-share program that provides financial incentives and technical and educational assistance to property owners installing eligible Best Management Practices (BMPs). These practices can be installed in areas of your yard where problems like erosion, poor drainage, or poor vegetation occur. Other things the program can help with include restoring problem areas, conserving water in the landscape, improving riparian buffer areas, promoting wildlife habitat, revegetating bare slopes, stabilizing drainage ways and treating stormwater runoff. Qualified sites can be used for residential, commercial, or recreational purposes with a proposed practice that addresses a need.
If you are interested in pursuing funding for a BMP practice to resolve an environmental issue you are having please contact us. For more information about the VCAP project and eligible practices please check out this link.